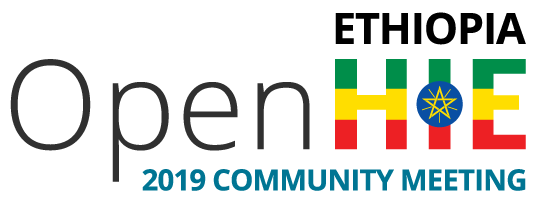 Just a gentle reminder, the OpenHIE Community in collaboration with the Ethiopia Ministry of Health will be hosting the
2019 OpenHIE Community Meeting (#OHIE19) in Addis Ababa, Ethiopia, 4-8 November 2019 – https://ohie.org/ohie19.
In response to community requests this year we've been trying something new to prepare for the meeting. We've set up a way for community members who are attending #OHIE19 to propose
unconference session topics and even vote on their favorite topics before the event. These proposals can be items you want to see discussed or maybe even sessions you want to facilitate yourself.
This process is meant to encourage community members to share and be transparent about what they want to get out of the meeting and also help the planning team to organize the meeting so you get the most out of it. If
you would like to see what people are sharing, propose a topic, or vote on a topics you can
go to the OHIE wiki page here and follow the instructions below.
How to add topic suggestion:

···

Log in with your OpenHIE username. *Must have a login to add a topic or vote on topics.

Click "Edit" (top right corner of page)

Scroll to the bottom of the "Proposed Conference Topics" section and click in the space below the ** "Multivote"
table**.

A popup box will appear click on "Add Entry", a row will then appear in the "Multvote" table.

Enter the topic idea, topic description, your name as topic proposer and/or presenter. *Do not edit the first column "id" as this ranks votes.

Click "Update" (lower right hand corner when you are done making topic suggestions and the page will save your edits.

How to vote on a topic:

Log in with your OpenHIE username. *Must have a login to add a topic or vote on topics.

**Check the box **for the topic you want to vote for in the "Your Vote" column of the table.

**Jamie Thomas **|****Community Manager

Center for Biomedical Informatics

1101 West Tenth Street

Indianapolis, IN 46202

Tel 317-274-9218 | Fax 317-274-9305

Email: jt48@regenstrief.org | Skype: jamie.thomas5670 | Twitter: @Regenstrief

Confidentiality Notice: The contents of this message and any files transmitted with it may contain confidential and/or privileged information and are intended solely for the use of the named addressee(s).
Additionally, the information contained herein may have been disclosed to you from medical records with confidentiality protected by federal and state laws. Federal regulations and State laws prohibit you from making further disclosure of such information
without the specific written consent of the person to whom the information pertains or as otherwise permitted by such regulations. A general authorization for the release of medical or other information is not sufficient for this purpose.

If you have received this message in error, please notify the sender by return e-mail and delete the original message. Any retention, disclosure, copying, distribution or use of this information
by anyone other than the intended recipient is strictly prohibited.