Hi All,
With legacy systems(EMR systems),that are working to the expectations of governmental and private health organization units/Hospitals/Clinics, we are facing a challenge of integration(I feel like it's an obvious problem).
From what I have seen and understood it is difficult(almost impossible) to develop an API to make those legacy/commercial EMR systems interoperable caused by many reasons(closed source, lack of expertise that worked during the EMR development and other similar issues). But one thing I have seen is that, the IT skilled, responsible individuals assigned to manage those EMR systems have become good at database layer of those systems. Taking this as an advantage, developing configurable adapter software system that has direct access to database of those EMR systems will enable us to have data rich shared health record(SHR). The following diagram illustrates the communication: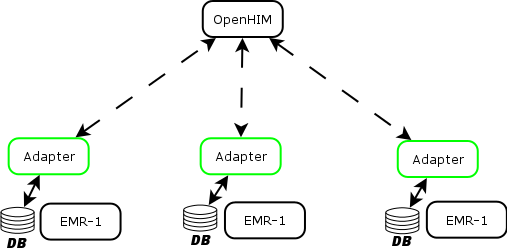 I believe this should substantially reduce the cost of building API for legacy/proprietary systems. In terms of participatory strategy (where individuals related, in any way, working with the EMR systems shall play their role) the outlined method shall allow expertise of those EMR systems easily join the work force.
Talking interface implementation, this layout is also important in terms of focus where one is engaged in implementing the adapter with dynamic configuration support and easy UI for any one to use. Instead of knowing details of several systems to develop new API (or customize existing APIs), the focus will be only to work on the adapter to incorporate those systems needs.
I am making a review on existing similar solutions. Kindly put a reference I can look to, suggestions/comments you have, direct me to similar works(or works in progress). I will share my review back, promise!
I hope my points are clear! I am available to explain the challenge and proposed solution further, just put your questions in this thread, I will react in no time.
Thank You.
@subcommunity_leads