"Gender Equality, Diversity and Inclusion in Digital Health: Strategies for achieving Health for All in Africa "

---

Date : June 17th, 2023
Time : 10am WAT
Venue: Zoom

Register here to participate:
https://forms.gle/581DXovdptP3nGdT6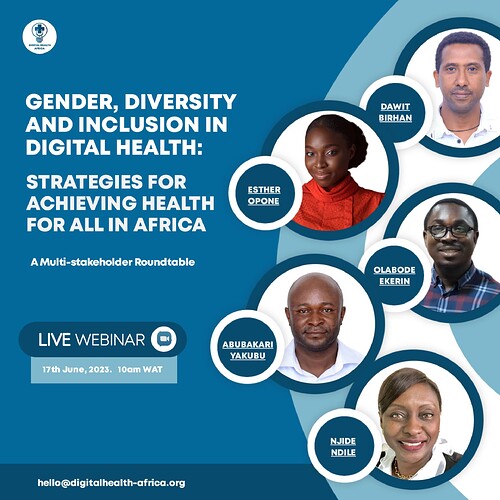 The following topics with be discussed:
-The role of digital health in promoting gender, diversity, and inclusion in Africa.
-The challenges faced in promoting gender, diversity, and inclusion in digital health.
-Strategies for overcoming these challenges.
-Best practices in achieving health for all through digital health in Africa.
Panelist:


Esther Opone - Fellow One Healthtech


Njide Ndili - Country Director, Pharmaccess


Abubakari Yakubu - Operations Manager , HELINA


Dawit Birhan Bashahwred - Sr. HIT Specialist at the Health Information Technology Directorate , Federal Ministry of Health, Ethiopia


Dr. Olabode Ekerin - Founder, WiseUp Initiative for Good Health and Community Development.
Contribute your expertise to this rich and engaging discussion

Register here to participate: https://forms.gle/581DXovdptP3nGdT6
#diversevoicesbetterhealth