Hi all.
Here is an information notice about the IHE Connectathon in Chicago this January. For those in the community that have not got any experience with such an event, the webinars may be helpful.
We anticipate that we will have a number of our communities participating to test the CSD specification. J
DJ
Derek Ritz, P.Eng., CPHIMS-CA
ecGroup Inc.
+1 (905) 515-0045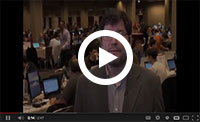 ···

From: IHE USA [mailto:IHEUSA@LIST.HIMSS.ORG] On Behalf Of Willis, Sarah
Sent: August 23, 2013 1:51 PM
To: IHEUSA@LIST.HIMSS.ORG
Subject: Prepare for Successful Testing at IHE NA Connectathon 2014 | Register for Educational Webinars: August 27th & 28th

Prepare Your Team for Health IT's Largest Interoperability Testing Event- IHE North American Connectathon 2014

Register for our Educational Events Next Week: August 27-28, 2013Integrating the Healthcare Enterprise's (IHE) North American Connectathon provides an unparalleled opportunity for interoperability testing and problem resolution. Take an active role to advance your products and test at the IHE North American (NA) Connectathon, January 27-31, 2014. To learn more, register for upcoming educational webinars next week.

· IHE North American Connectathon 2014 Kick-off Webinar: August 27, 2013 at 9-10am CT | Register Now!

· IHE USA's Certification Program Webinar: August 28, 2013 at 1-2pm CT | Register Now!

Gain a Sneak Peak of the Connectathon testing floor.

Discover the Benefits of Connectathon Testing

Reduce Development Costs and Time to Market:

· Debug systems within minutes leveraging a broad cross-section of industry partners on-site

· Leverage 15 years of test tools developed in partnership with IHE and NIST

Build Quality into your Products:

· Certify your products for interoperability using an ISO accredited lab and ONC-authorized certification body

· Implement best practices using IHE Integration Profiles to enable key interoperability capabilities

· IHE's structured, supervised and independent testing environment ensures the highest quality products

Meet Industry's Standards for Interoperability:

· New! Test emerging standards offered by industry partners including Continua, Health Story Project and ONC S&I Framework Health eDecisions (HeD)

· Prepare for MU Stage 2 certification requirements focused on Consolidated CDA integration

· Prepare for integration with key North American initiatives that leverage IHE Profiles including:

· ONC S&I Frameworks

· Meaningful Use Stage 2 Certification

· HealtheWay

· New York eHealth Collaborative

· Care Connectivity Consortium

Don't miss IHE USA's Kick-off Webinar! Register Now!

IHE USA Certification testing is raising the bar in assuring the quality and interoperability of your health IT products:

Are you committed to demonstrating your products meet the highest quality of interoperability using IHE integration profiles? Would you like a way to promote and differentiate your products to clients who want additional assurance that deploying your product will meet their interoperability, privacy, and security requirements and integrate with the larger HIT ecosystem? ICSA Labs has partnered with IHE USA to help accelerate the adoption of robust, secure, and scalable health information exchange.

The IHE USA Certification Program provides internationally-based and industry-accepted testing and certification, which complements IHE Connectathon testing. Implementers will have the confidence needed to select and deploy software products that will appropriately and securely connect with one another according to selected IHE specifications. Register today to learn how your organization can advance interoperability!

Learn What it Takes to Become IHE USA Certified:

· The value of IHE USA Certification provides you and your clients

· The successful outcomes of the 2013 Certification Pilot Program

· Identify opportunities to achieve IHE USA Certification at the IHE NA Connectathon 2014 and through ongoing virtual testing

· Obtain an overview of the IHE integration profiles selected for certification, including those being added for 2014

IHE Connectathons are held annually across the globe. The IHE NA Connectathon is sponsored by IHE USA in collaboration with IHE Canada**.** To learn more, visit our website or contact secretary@iheusa.org.
Join the conversation. Follow us on Twitter @IHE_USA or visit our YouTube Channel.

---

To unsubscribe from the IHEUSA list, click the following link:
http://list.himss.org/scripts/wa.exe?SUBED1=IHEUSA&A=1